The 6th Annual Holiday Golf Cart Parade by ICON® EV was a huge success!
Thank you to all of our participants that made this year's golf cart parade the biggest success yet! Nearly 400 decorated golf carts cruised down Apollo Beach Blvd this past Saturday with the most iconic themes, decorations, costumes, music & holiday jubilee.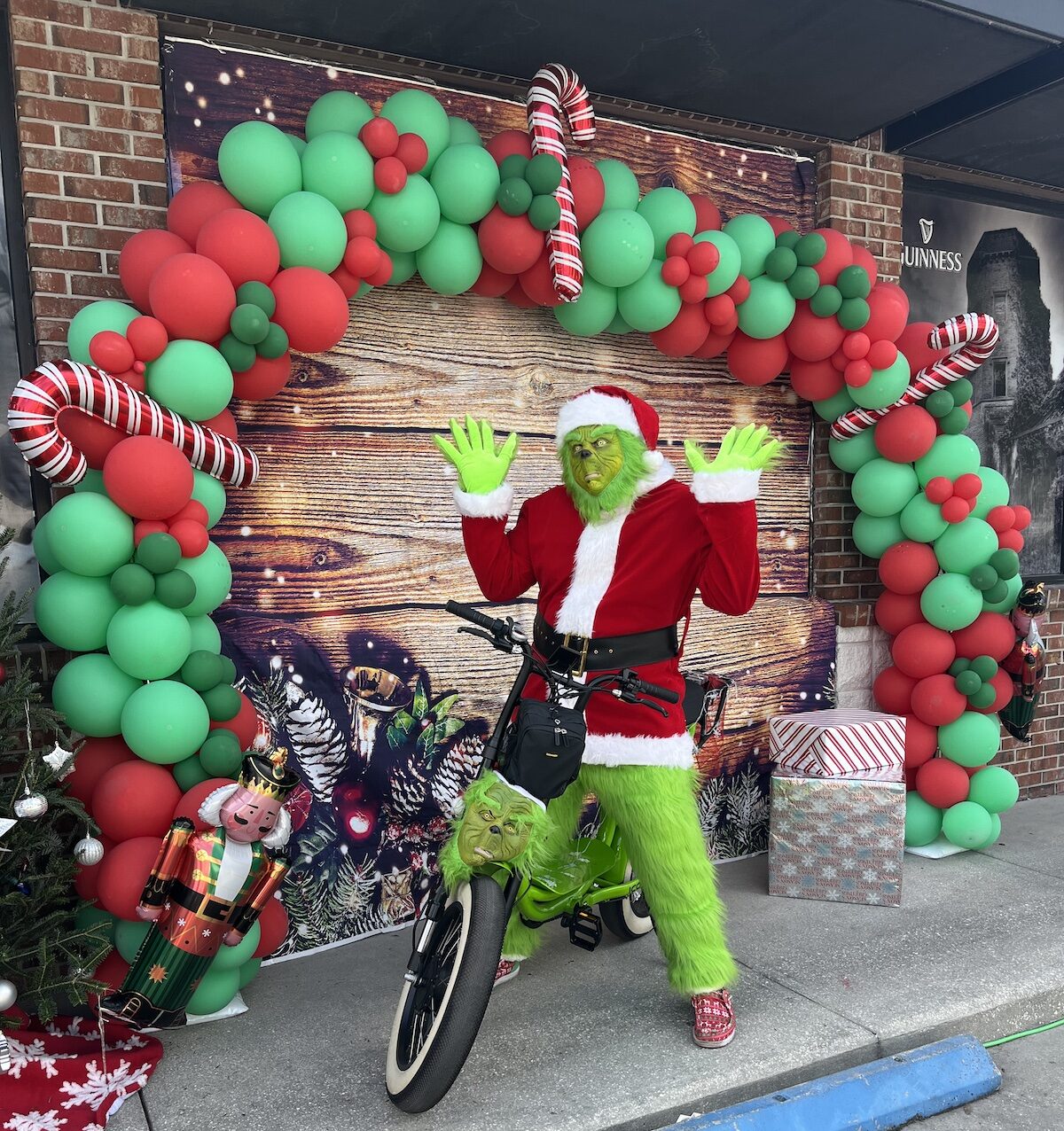 Spectators wished everyone happy holidays and cheered as the impressive golf cart light show rolled down the boulevard tossing out souvenir beads, frisbees and trinkets to both kids & adults alike.
The fun kicked off at 11am with a full day of activities planned for the kids like never before.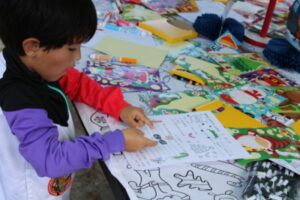 Parents got a kick out of seeing big smiles on their children's faces while they had fun at the arts & crafts tables writing, coloring & stickering letters to Santa & even mailing them to the North Pole.
More kids' fun included stations for balloon animals, face painters, magicians, hula hoop contests & of course the always busy spin-to-win prize wheel, where everyone was a winner!
Creative and valuable raffle prizes donated by the local Apollo Beach-area businesses were given out every hour, creating even more excitement for the crowd.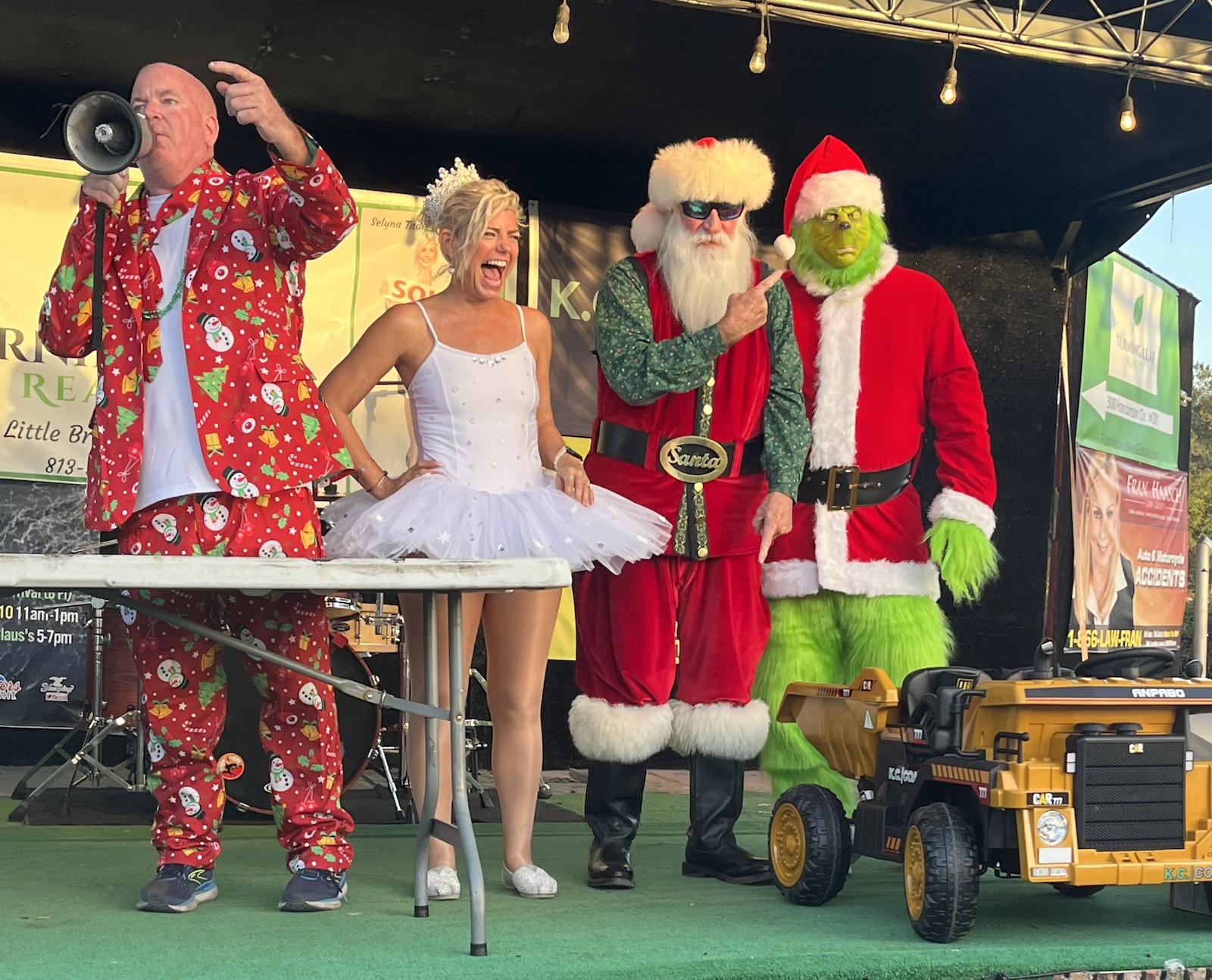 Santas, Grinches, and Sugar Plum Fairies… oh my…
The costume contests also proved to be a success and there was no shortage of participation at this year's event. Over-the-top costumes included Rudolf the Red-Nosed Reindeer, the Grinch and his dog Max, Cindy-Lou Who, Santa and Mrs. Claus, and even Jack and Sally Skellington from the Nightmare Before Christmas movie!
The kids' costumes were adorable and our little elf friend who flew in with her family from Ohio was our children's prize winner.
The adult costume contest was a hit, too! Many thanks to our friends at T&G Services who kindly gave us a Yeti Cooler as the grand prize valued at $299!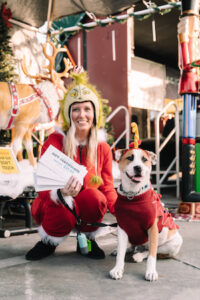 Plus, the debut of the first ever pet costume contest was PAWSOME!
Big congrats go out to Chester AKA Max (from the Grinch movie) and his mom Amanda for taking first prize which won them a $100 gift certificate to Finns Dockside Bar & Grill in Apollo Beach.
The grand raffle prize of a kids battery-operated dump truck, donated from our friends at KC Coastal, was awarded at the end of the night.
The lucky family who won the raffle prize couldn't have been happier, with their little boy all smiles as he drove away in his little truck!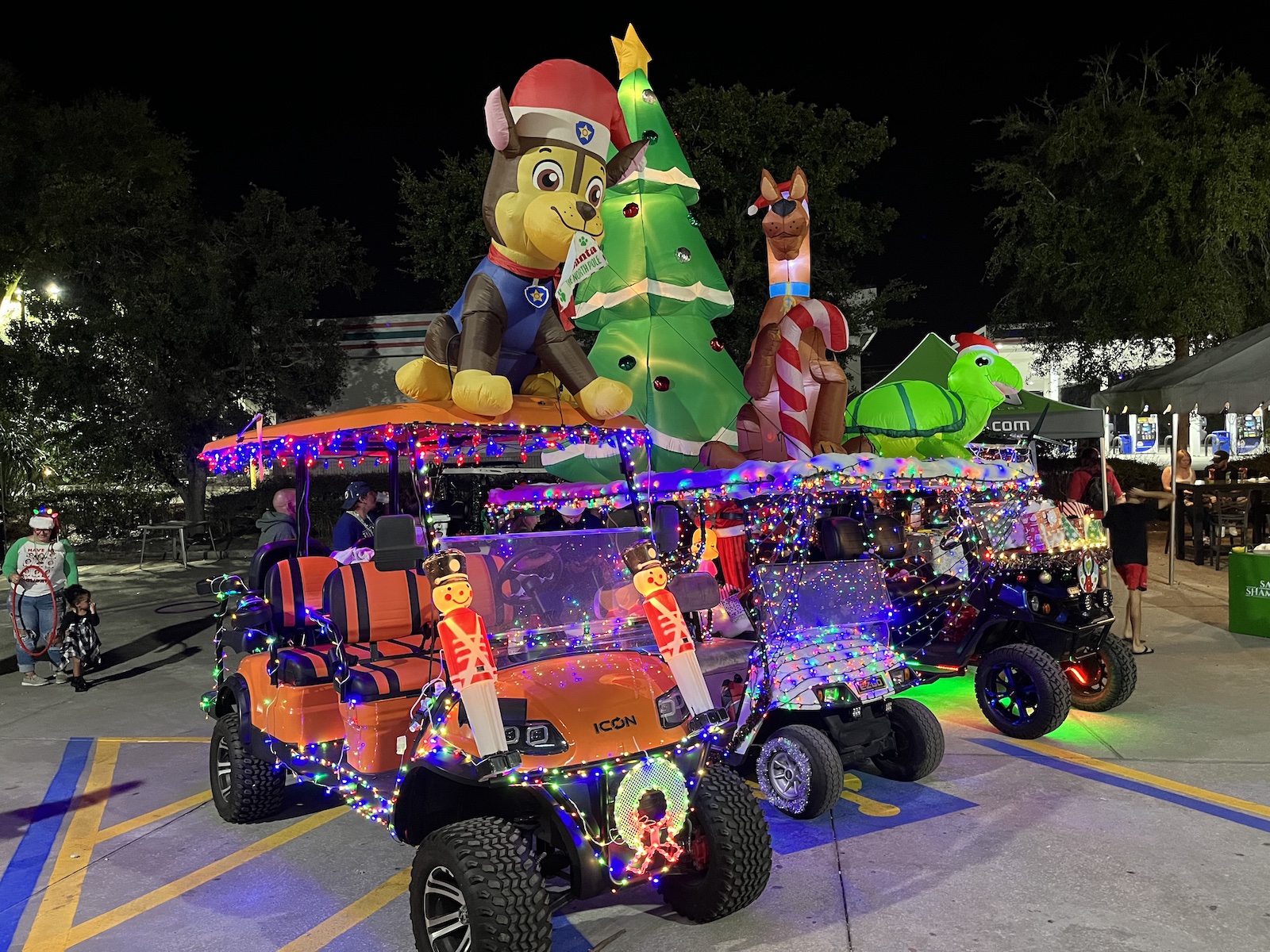 Huge congratulations are in order for this year's best decorated golf cart winners!
The grand prize went to Justin Kiefer, who bedazzled his golf cart with thousands of lights, complete with a giant inflatable Christmas tree, a turtle Santa and Scooby Doo as passengers! A special thank you goes out to our sponsors for the spectacular prize donations for our winners.
Mr. Keifer took home a half-day fishing charter with True Lies Fishing, generously donated by Iron Rock Insurance, as well as a state of the art ECOXGEAR sound bar gifted by ICON® EV!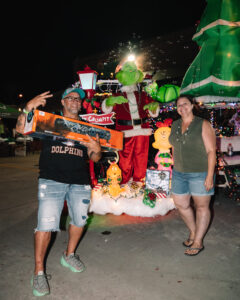 Our second and third prize winners wound up in a tie for second place, as their creativity and decorating skills resulted in a hung jury with the prize selection team!
The Grinch arrived in Who-Ville from Mt. Crumpit on the back of our winner's golf cart, accompanied by Max and Cindy-Lou Who and some other Who friends!
Paw Patrol's Chase rolled in on an orange ICON® golf cart, adorned with lots of lights, ornaments, toy soldiers, and a sparkling wreath!
Both entries were awarded with an ECOXGEAR Powersports SoundExtreme SE26 Amplified sound bar (valued at $399.99) from ICON® EV for their stellar efforts and spectacular decorations!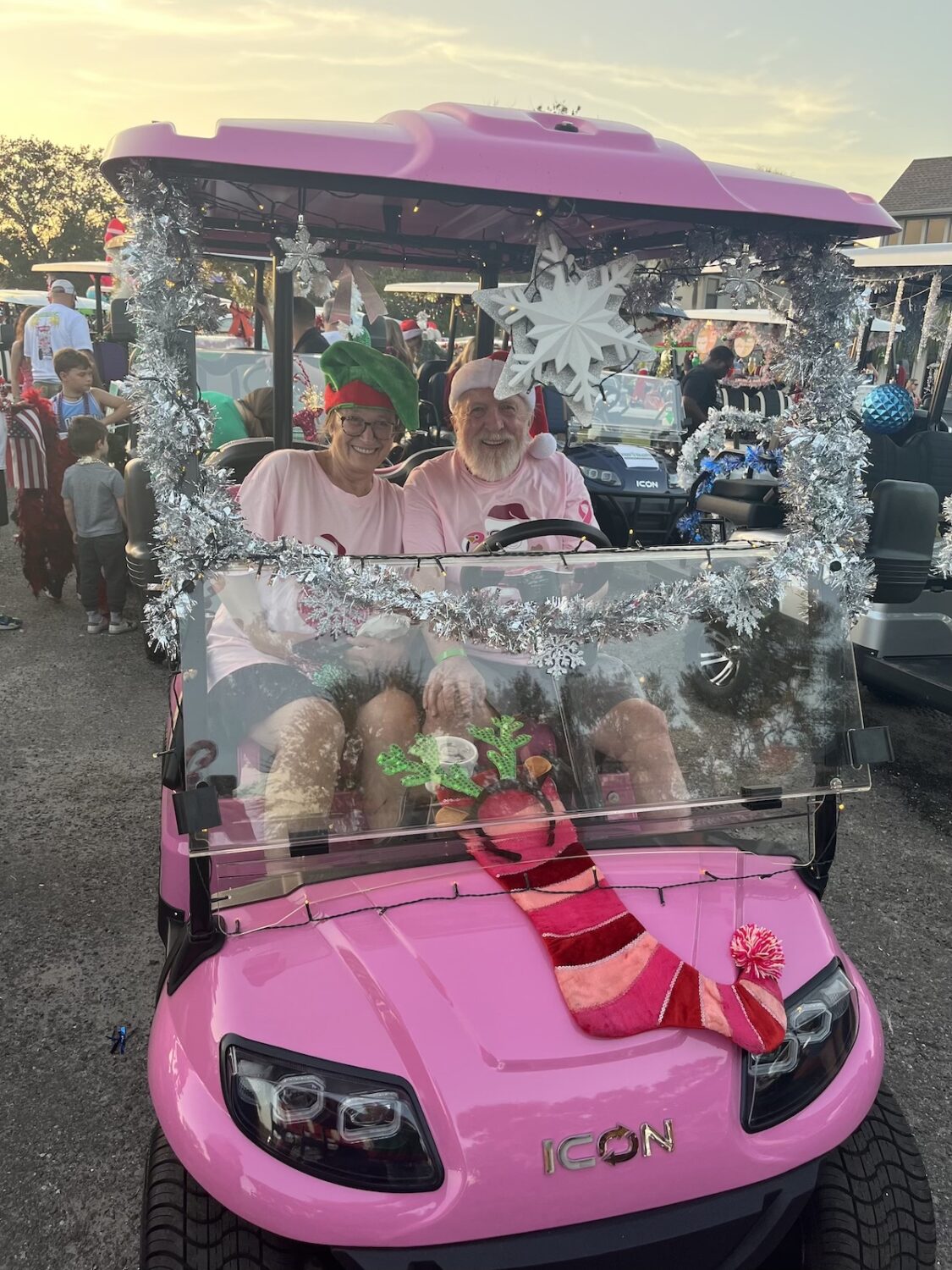 Cruising Pink for a Cure by ICON® EV
Another fun highlight of the day was officially awarding the brand new pink ICON® i40 golf cart to Terry and Carla Patillo, winners of our Cruise Pink for a Cure fundraiser!
ICON® EV flew them in to Florida from their home in Alabama so they could take their maiden voyage at this year's Apollo Beach Parade.
"We couldn't have asked for a nicer couple to win Cruise Pink for a Cure, and we look forward to raising even more money next year to help win the fight against breast cancer," said ICON® EV owner & visionary Roy Williams.
While the event was free, attendees were asked to bring an unwrapped toy, and they certainly went above and beyond. All donations went directly to the Sylvia Thomas Center & Mary & Martha House to make the holidays a little brighter for those in need.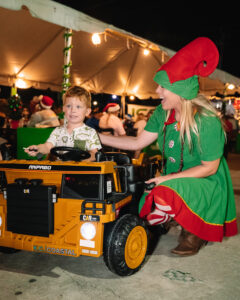 "We want to bring joy and happiness to kids this time of year. That's why we do this event. I was so happy to see how many toys and cash donations were provided to worthy charities, and how many participants we had this year. It's all about uniting the community and bringing awareness to these great foundations," said Williams.
Make sure to follow ICON® Electric Vehicles on Facebook to see all of the photos from this phenomenal event. We will be adding more pictures & videos as they come in.
Thank you again to all of the local businesses who supported the event including Iron Rock Insurance, Turning Leaf Realty, Busciglio Smiles, KC Coastal, Utility Box, T&G Property Services, Beef O'Bradys, Finns Dockside Bar & Grill, Shoreline Marine Detail, 38 Threadz Custom Upholstery, Blue Ice Vodka, Tygr Communications, DDD Fencing, Southshore Browns Backers, True Lies Fishing Charters & of course The Salty Shamrock.
Happy holidays to all from the ICON® EV team, and we can't wait to see everyone next year!