For more than a decade, Palm Beach County and the City of West Palm Beach have proclaimed the second week of January as SUPERCAR WEEK. This famed week of celebrations of Art, Technology, Speed, and Design encompasses nine days of auto enthusiast-driven events at hotspots throughout Palm Beach County.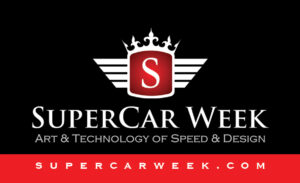 Since its inception, the producers and sponsors of this much anticipated event have been determined to make Palm Beach County, and the State of Florida, the premier destination for auto enthusiasts worldwide.
This year, expansion is on the horizon.
As the tradition grows, so does the SuperCar Week footprint, with satellite events happening in Orlando, Tampa, Sarasota, Punta Gorda, Fort Myers, Naples, Miami, Doral, and Fort Lauderdale.
Join the team from ICON® EV at the grand finale of SuperCar Week on Sunday, January 15th, 2023 from 11am – 5pm taking place on the beautiful West Palm Beach Waterfront. General admission is free, and VIP tickets are still available.
When approached to become the official golf cart shuttle service for the producers of this spectacular event, ICON® EV was thrilled to get involved… in a big way!
The ICON® EV booth will be located on Flagler in between Datura & Evernia Street, and will showcase a selection of LSVs for your riding pleasure, including many ICON® EV golf cart models, EPIC Cart models, & the brand-new ICON® Ebikes now hitting the market.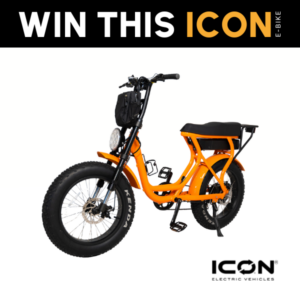 And if you're really lucky… you may even win one!
That's right! We're launching our very first ICONIC Ebike giveaway!
Stop by our booth for your chance to enter to win. The winner will be selected on Sunday, January 22nd, 2023 and will be notified no later than Tuesday, January 24th, 2023 on all social media platforms.
Feeling like a winner? CLICK HERE to submit your entry now!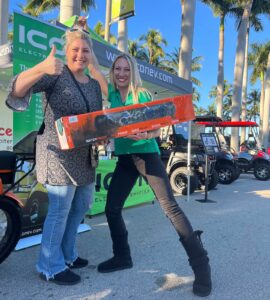 Plus, our friends at EcoXGear gave us a top-of-the-line SoundExtreme 26" Sound Bar that we will be giving away to one lucky winner at SuperCar Sunday's grand finale. This waterproof powersport amplified sound bar boasts dual woofers, 360 degree sound, 500 watts of peak power, Bluetooth capabilities, multicolor LED party lights, and so much more!
No purchase is necessary, you must be 18 years of age or older to enter, and you do not need to be present to win either prize.
More than 75,000 guests from around the globe are expected to attend this annual event, trying to get a glimpse of the latest, greatest and most significant automobiles in the world.
Car collectors, car clubs, private owners, dealers and manufacturers fill the one mile stretch from Banyan Street to Lakeview Drive, providing the crowd with a truly unique experience.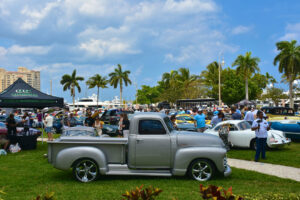 Stroll through time as you gaze your eyes on an extraordinary array of themed vehicle display areas, including SuperCar Street, Muscle Beach, Memory Lane, Green Street (for Electrics), Corvette Court, Viper Blvd., Porsche Place, Mustang Manor, ArtCar Ave., Super Jeep Village, The Collectors Corner of Palm Beach Juried Classics, and various land, air & sea displays.
Have the need for speed?
Race over to the Larry Goldman Marine Village of Offshore Power Boats, and The Bill Mazzoni Motorsports Village of Race Teams – filled with race vehicles.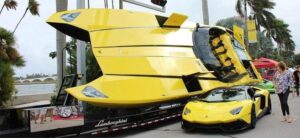 New this year, the main stage has been made into "The Byrdman's Bandstand," a tribute in dedication and memory to SuperCar Week's co-founder and partner, Tim "The Byrdman" Byrd.
"Governor Ron DeSantis became aware of SuperCar Week in late 2021 and sent a personal congratulatory letter, thanking us for our initiative of increasing tourism and economic impact through auto enthusiasm," said show co-founder Neil London. "We hope to see him and Mrs. DeSantis at this year's SuperCar Grand Finale."
To find out more about SuperCar Week, visit www.supercarweek.com, and make sure to stop by our booth, enter to win and of course say hi to our team during the show!