Wait…STOP… Charge it up & listen… ICON® EV has a brand new addition!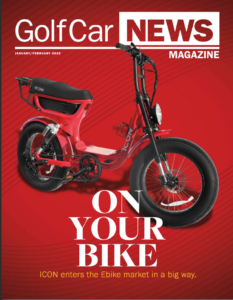 Tune in and gear up… announcing the ICONIC Ebike! Built to ride and make life fun, ICON® EV has manufactured the most sought-after Ebike geared towards those who live life on the go.
Times are changing, and the low-speed vehicle market is evolving.
The demand for electric vehicles has grown exponentially, and the need for a wider variety of options in the LSV sector has become apparent.
Specifically, the Ebike market has seen a spike in interest as a result of general growth in population, the increase in commuter traffic, the shortage of parking, and the rising cost of fuel, so the innovators at ICON® EV got to work.
Most Ebikes currently found on the market lack quality and durability, and ICON® EV wanted to offer a better solution.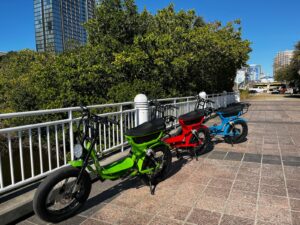 After testing hundreds of different brands, designs, capabilities, and frame structures, our team created a superior offering with a bigger motor, more oversized spokes, and a better frame.
Upgraded features were meticulously added to make an Electric Bike worthy of the name ICON®.
The goal was to design the most comfortable, durable, and sturdy frame available to consumers today.
With that in mind, the frame was designed with double rails, so all wires are fully encased with none exposed to pull or snag. The double-rail frame has the added benefit of helping to protect all of the Ebike's components from weather exposure.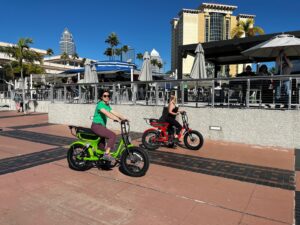 The up-sized 12-gauge stainless steel spokes and alloy rims aid in the weather-proofing of this durable piece of machinery, making it the perfect way to complement an outdoor lifestyle.
Ride to the office, store, or beach with no fear of the elements taking their toll on your favorite mode of transportation!
ICON® EV Ebikes are fitted with full suspension (front and rear shocks), active brake lights, LCD gauges, LED headlights and tail lights, daylight sensing automatic lights on the XD model, and easy-to-achieve speeds of 25 mph on roadways.
This versatile Ebike makes life simple.
The bike's back end has a rack perfect for affixing your groceries from the store or storing your work essentials.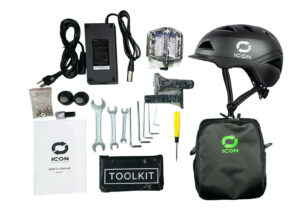 The front end carries the signature ICON® EV "burse" (aka "Bike Purse"), which holds every necessity you will ever need for your ICON® EV E-bike!
It includes an ICON®-branded helmet for safety, a complete user manual so you can know all of the intricate details of your ride, and a convenient charger you can bring with you wherever you go so you can have a "hot" battery going home!
Not only that, but your "burse" carries a complete tool kit with everything you need to build your Ebike from the box to the roadway! Screwdriver, hex screws, and wrenches are all included in your tool kit, as well as replacement pedals, "knuckles" that go over the shocks for weather-proofing, an E-bike "raincoat" to keep your favorite transport rideable even in inclement weather, touch-up paint for those inevitable scratches and dings, and even a pair of additional foot pegs, all in an easy-to-carry backpack that you can sling over your shoulder!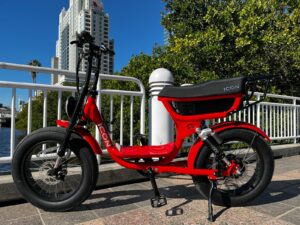 It only takes 4-6 hours to charge the battery from complete depletion to a full charge, and even less under normal circumstances. A full payment will give the driver 20-25 miles of continuous driving at speeds up to 25 mph before the battery needs a boost.
Like every product in the ICON® family of brands, peace of mind is of the utmost importance, which is why every ICON® Ebike comes with a one-year manufacturer's limited warranty on parts, and six months on batteries.
Market research has shown that consumers desire a streamlined solution for maintenance and repairs. This is why ICON® dedicated themselves to making this Ebike even more user-friendly.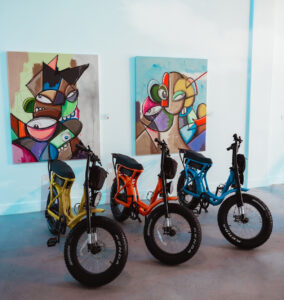 All replaceable parts are intentionally non-proprietary, meaning they are not required to be purchased solely through the dealer or manufacturer. This means no delays or waiting on manufacturer-only parts. From the top of the line Shimano gears, Kenda tires, Tektro brakes & brake pads… all parts are commonly available, so upkeep and maintenance are a breeze.
ICON® Ebikes are the perfect complement to any dealers' showroom floor, and ICON® EV golf cart owners love the fact that they can even purchase one that matches their carts at home.
To shop for your next Ebike CLICK HERE!
Dealers interested in carrying our top-of-the-line Ebikes should reach out to sales@iconev.com or call (813) 335-0015 to get started.