The 63rd edition of the Fort Lauderdale International Boat Show was a huge success for the entire team at ICON® EV, partnering with the world's largest in-water boat show to offer exclusive VIP golf cart shuttle service from the Superyacht Village to the Windward VIP Experience at Bahia Mar.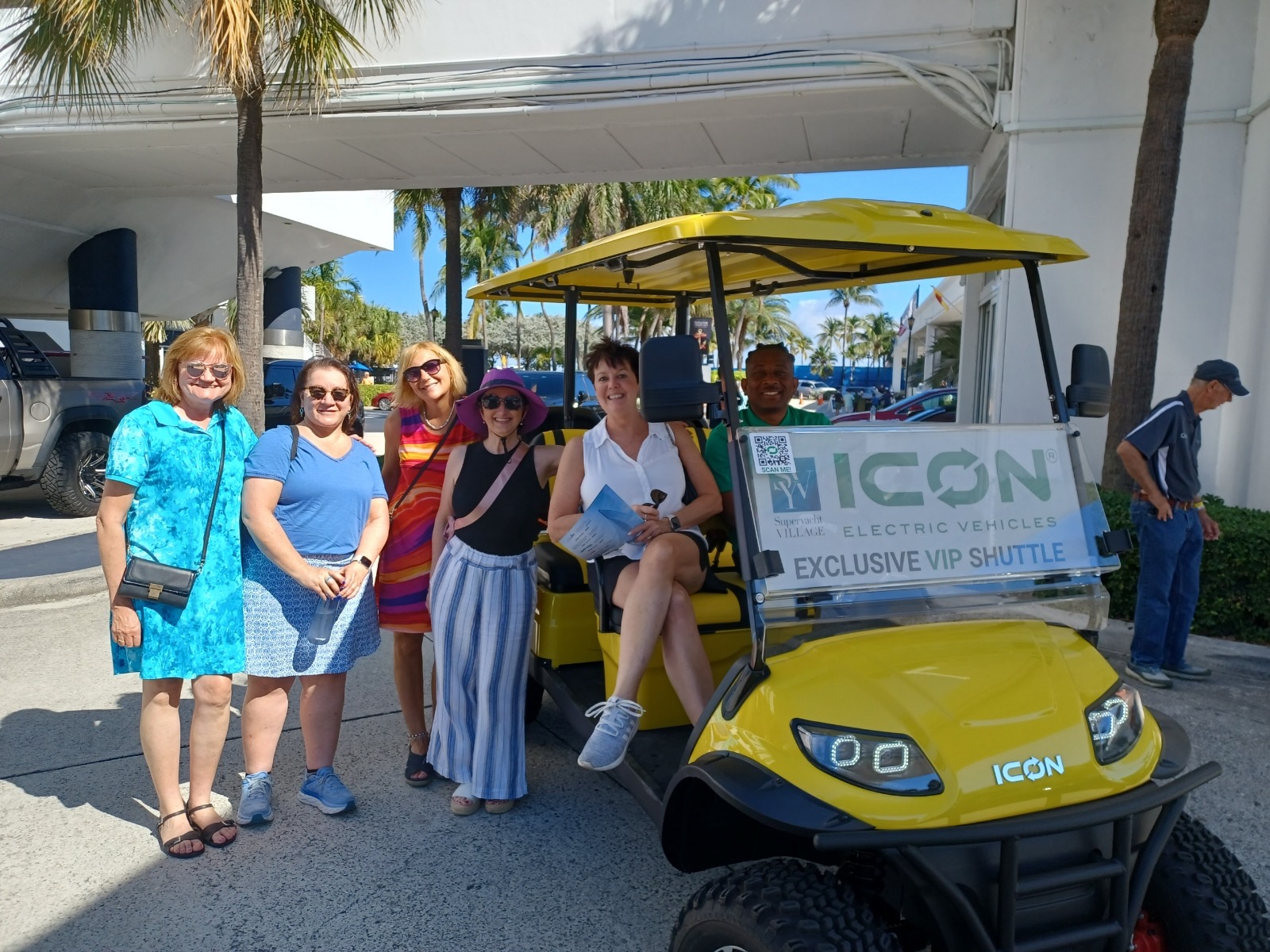 ICON® EV was proud to up the game and create a whole new feature for the VIPs attending. Although a golf cart shuttle service has always been something FLIBS wanted, they never had the right partner… that is… until ICON EV stepped up!
VIP guests loved the new perk… and quickly jumped on the ICON® EV golf cart shuttles to easily maneuver between the heavy traffic, allowing them to enjoy visiting some of the world's most impressive mega yachts, open bars, and extravagant gourmet food displays, all while enjoying seamless luxury transportation.
It's definitely a lifestyle, and the VIPs enjoyed non-stop laughter, fun and partaking in our "signature wave" between golf cart riders.
A rainbow of vibrantly colored ICON® EV shuttles were definitely eye-catching & couldn't be missed, brightening up the waterside pathways catering to the most exclusive VIP crowd, many of which were ready to purchase one for themselves after taking an iconic ride in style on A1A.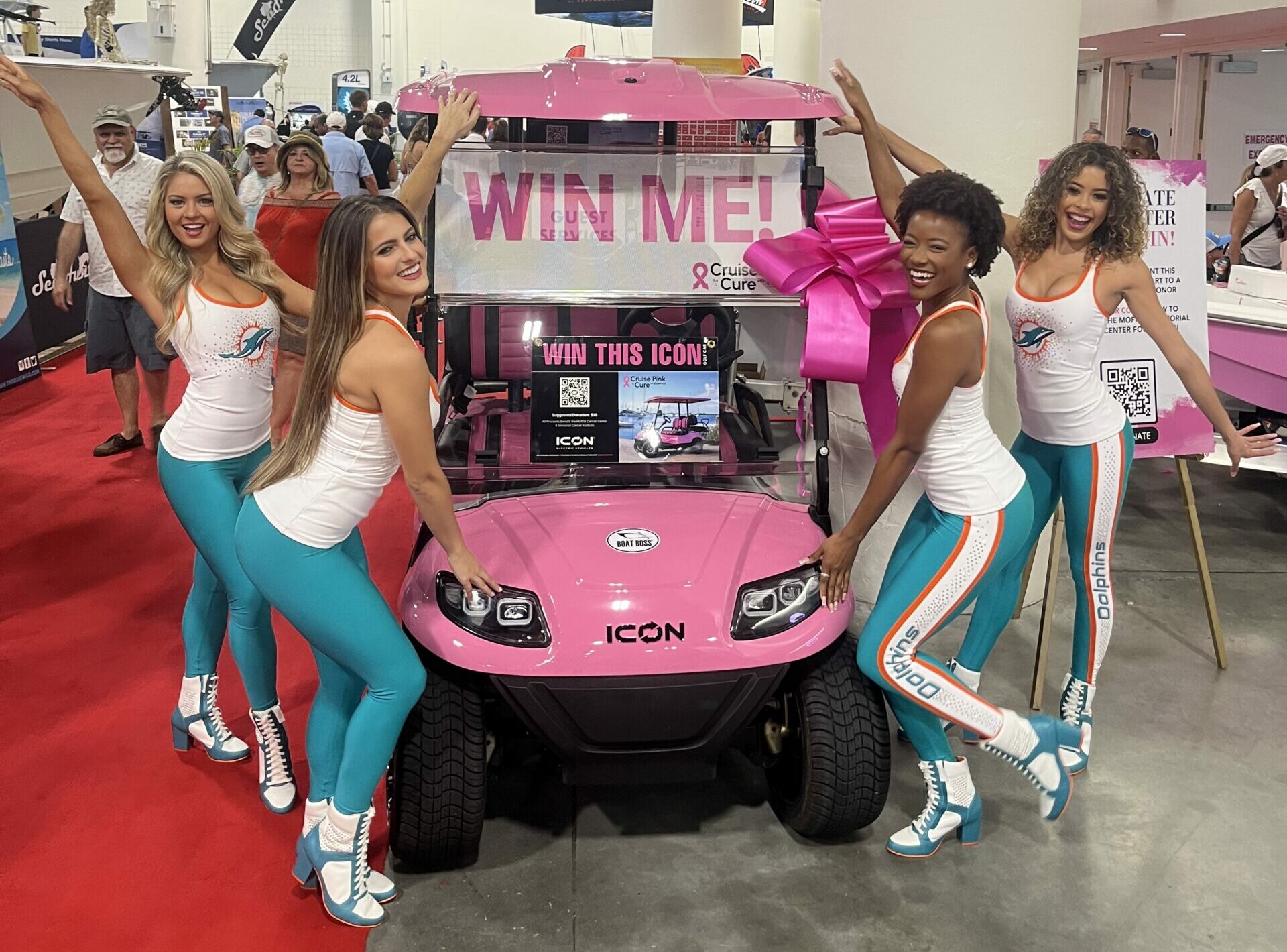 Cruise Pink for a Cure Giveaway
In addition to catching a ride on one of ICON®'s beautiful 4-seater and 6-seater vehicles, FLIBS attendees were able to catch a glimpse of ICON®'s featured vehicle created to raise funds for breast cancer awareness through support of the Memorial Cancer Institute and Moffitt Cancer Center.
The sleek and stunning pink ICON® i40 was certainly the star of the show, located right at the front of the convention center. However, that wasn't enough for the enthusiastic team at ICON® EV,  who were so prepared to raise as much money as possible for the great causes, that they built two "Cruise Pink for a Cure by ICON® EV" Giveaway carts to add to the attraction and fun of participating.
The effort paid off! In all, the team at ICON® EV was able to raise a total of more than $12,300 through donations made by entrants to the Cruise Pink for a Cure with ICON® EV giveaway. These funds were directly donated to support breast cancer research through the Moffitt Cancer Center and Memorial Cancer Institute. ICON® EV awarded this beautiful vehicle to a lucky winner randomly selected from all entries at the closing of the boat show on Sunday, October 30, 2022.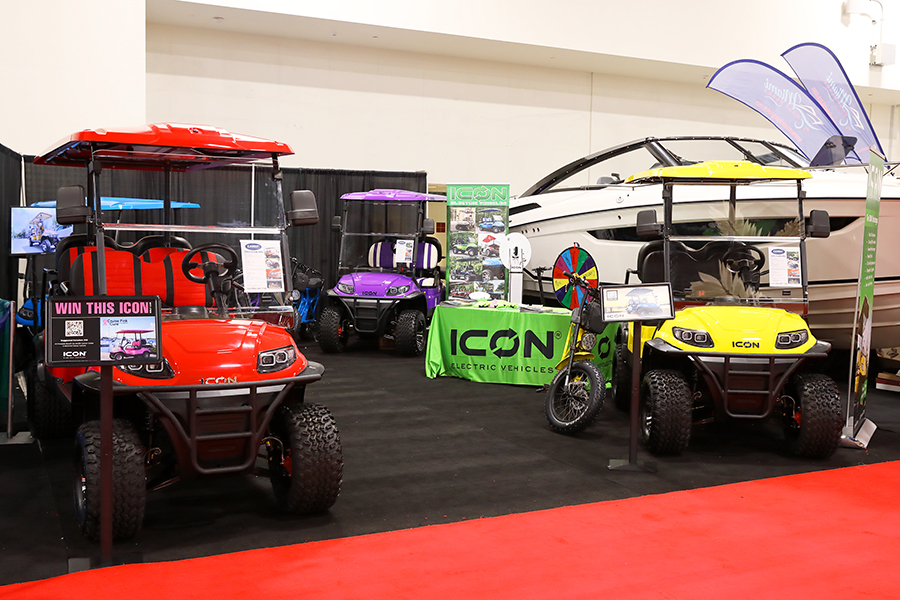 Highlights of this exciting 5-day event included a fun visit with some of our friends, including the stunning Miami Dolphins Cheerleaders, Kim Sweers, aka "The Boat Boss," and the team at Center Consoles Only, all coming together to help our team raise these much-needed funds for our warriors in the fight against Breast Cancer.
ICON® EV absolutely loved having two areas near the entrance to the Convention Center. The pink cart was a total show-stopper, and was cleverly turned into a fabulous photo booth by our team! Adults and kids alike had a blast posing for pics in the golf cart, and it was a prominent topic of conversation by the show attendees. Once pictures were taken and contest entry forms were filled out, most attendees headed right over to our nearby ICON® EV booth to view the different colors and configurations, and to get a sneak peek at the debut of ICON® EV's new line of E-bikes!
The E-bikes stole the show! FLIBS attendees couldn't ask enough questions about how to get their hands on one of our demo bikes. We are very excited about the Miami International Boat Show, as we will have many on display, as well as many on hand to sell.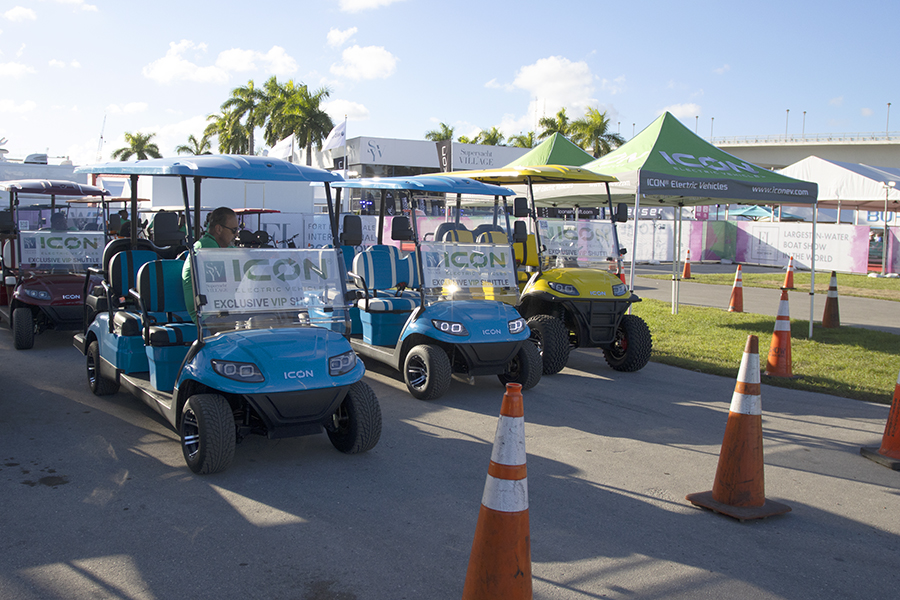 The annual extravaganza was kicked off by a crowd filled with TV stations, media and the "who's who" of the marine industry, applauding the respected group of local government officials and speakers for the official ribbon cutting on Wednesday, October 26th, 2022.
With an attendance of more than 100,000 guests and well over 1,300 boats, and an astounding local economic impact of $1.79 BILLION, the Fort Lauderdale International Boat Show spanned approximately 3 million square feet over 7 locations. All Boat Show locations were connected by easily-accessed water transport services and ground transportation, including the highly-anticipated debut of the ICON® EV VIP Shuttle.
Next up at the dock…. More exciting news! Stay tuned for new events being announced shortly!