YOU VOTED & ICON WON PRESTIGIOUS AWARDS!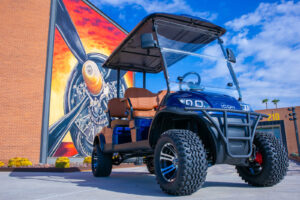 Fresh off the press is the much anticipated Golf Cart Resource annual awards results, and ICON took first place in both Overall Best Golf Cart Brand 2023 & Best Street Legal / LSV brand 2023!
"We are very proud to offer the value that ICON EV provides. Beating out competitors that have been in business for decades is a huge accomplishment, while staying ahead of the new up-and-comers is something we really take pride in!" said Roy Williams, Founder and ICON EV visionary.
With so many brands to choose from, it's easy to feel overwhelmed with options and information when you're looking to purchase a golf cart.  Look no further than ICON EV, because the experts and golf cart enthusiasts from around the country have chosen — and ICON is #1!
AN ICONIC JOURNEY TO THE TOP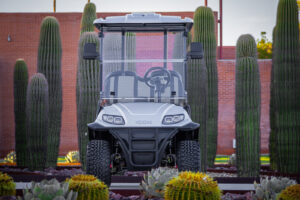 Thousands voted, and being #1 really fuels the excitement at ICON EV headquarters & within ICON's nationwide dealer network. Winning this prestigious award really shows that the dedication to providing unsurpassed value at an affordable cost has paid off!
"We broke into the market in 2017 offering an incomparable value to our customers. We're not greedy, we believe in building our ICONIC family & dealer network by offering the very best golf cart on the market today. An accolade like this just proves we are committed to leading the industry and will continue to do so!" said Williams.
ICON EV…CATEGORICALLY A WINNER!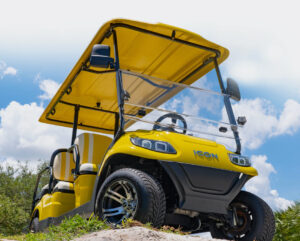 ICON EV has checked the boxes in all of the notable "favorites" categories too!  Need a street-legal cart?  ICON has your LSV!  Do you prefer a rear-facing seat on the back, or do you need a golf bag rack instead?  No problem… ICON offers them both!
According to Golf Cart Resource's survey, blue is by far the golf car color of choice, with red, black, white, silver, green and others being close in the running. The ICON EV family of brands has several shades to choose from, so no matter your color statement, ICONs turn heads and get noticed everywhere they go!
Do you live in (or aspire to live in) one of the best-ranked golf car communities in the nation?  We've got a spectacular dealer network serving each of the top three in the survey… The Villages in Florida, Peachtree City in Georgia, and Sun City in Arizona!  In fact, our dealer network is always expanding. With over 350 dealers nationwide, taking an ICON for a test drive is more accessible than ever before!
VALUE, VALUE, AND MORE ICONIC VALUE!
Each ICON Golf Cart comes equipped with a 48V ICON 5KW AC Motor & Controller, your choice of maintenance-free AGM batteries or an upgraded ECO lithium option, a convenient on-board charger that plugs into any 110V outlet, 4-wheel disc brakes, powder coated steel chassis, 10″ – 12″ aluminum wheels for either the non-lifted or lifted models, digital gauges, turn signals, seat belts, horn, fender flares & so much more!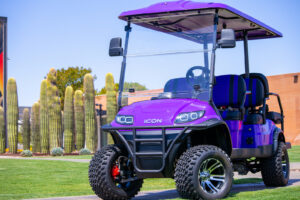 ICON EV also offers a 3-YEAR manufacturer warranty on new golf carts, a 2 -year warranty on the sealed & maintenance-free AGM batteries, and a warranty totaling 8 years on the proprietary ECO Lithium Battery, with a limited warranty that includes 3 years full replacement value, and 5 years prorated.
Whether you are in the market for a two seater, four seater, six seater or eight seater electric golf cart, the ICON EV family of brands crushes the competition! With 13 different vibrant color options, lifted or non-lifted models, and multiple seat configurations and color combinations, you can have a lot of fun when purchasing an ICON Golf Cart.
THE BEST LUXURY GOLF CART… EPIC CARTS BY ICON
Did you know that ICON EV proudly manufacturer's EPIC Carts? EPIC Carts are the epitome of LUXURY & STYLE. No other brand comes equipped with all of the standard bells and whistles that an EPIC offers.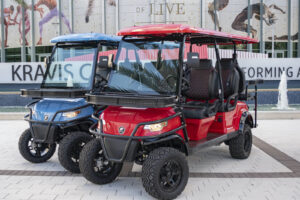 Premium features include a carbon fiber dash, high-back diamond stitched bolstered seats, 7″ LCD Display with back-up camera, 26″ Eco-X-Gear Soundbar, pre-wired 12V switches, and full DOT street legal compliance with a glass windshield, dual sided lit turn signals on mirrors, windshield wipers, lit license plate bracket, locking glove compartments, a fancy aluminum cargo bed & so much more!
THE BEST GOLF CART FOR YOUR BUDGET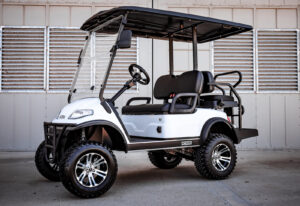 Think a brand new golf cart is out of your budget? Think again… and avoid the headaches of buying a used or refurbished cart.
ECO by ICON EV has launched, and provides a budget-conscious solution for the shopper that wants the best new golf carts at an unbeatable price.
Two 4-seater model options, including lifted and non-lifted, won't break the bank and will offer your family years of fun. Plus, you can't beat the peace of mind that comes with a 2-year manufacturer & battery warranty.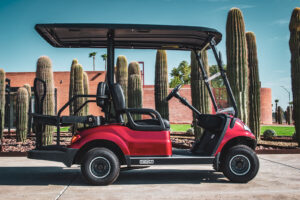 There are six total colors to choose from in the economy line including white, black, indigo blue, forest green, champagne and red.
Key features on these new golf carts include a 350 amp controller, drum brakes, unique flooring, square tubing, textured matte finish on the windshield post & grab bar, halogen lights, dual sway bar in the rear, and dual arm construction on the rear end.
YOUR ICON COMMERCIAL LINE FOR LIGHT & HEAVY-DUTY JOBS
ICON has always offered an excellent line of utility options.  However, the team at ICON has focussed their efforts to develop a superior commercial line of light duty and heavy duty models that out-perform the competition in quality, durability, and price.
The ICON C-Series carts are suited for light commercial tasks in industries such as travel and hospitality.  C-Series vehicles come equipped with ICON 450A controllers, a 5kW motor, sealed maintenance-free AGM batteries or upgraded lithium, 10"-12" aluminum wheels, 4-wheel disc brakes, powder coated tubular steel chassis, high-speed rear ends, and durable front and rear bumpers.
Whether your job requires you to haul cargo, tools, products, or passengers, this line does it all! With numerous choices of cargo boxes and seating configurations, the ICON C-Series offers a solution for the tasks at hand.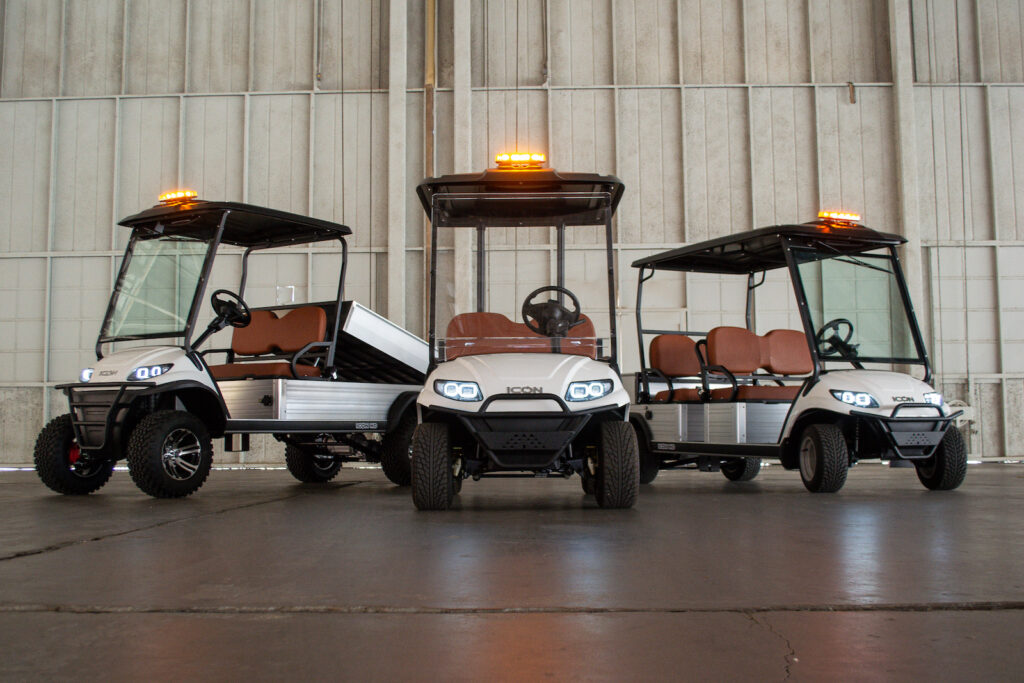 Need something tougher?  Meet the 2023 ICON HD!  The ICON HD-Series is built to be a workhorse, and provides heavy duty commercial upgrades including 70V/105A Lithium battery, hydraulic 4-wheel disc brakes, brush guard, tow hitch, beacon light, DOT safety glass windshield, electronic wiper & more — all offered at an ultra-competitive price point.
No matter what you're looking for in your personal golf car or fleet LSV, ICON EV's family of brands is dedicated to remaining the top choice for everyone! We look forward to earning and maintaining your business, your trust, and your loyalty in the years the come.
Thank you again for your votes and helping us win this prestigious award!
STAY CONNECTED ON SOCIAL!
Follow ICON EV on Instagram, Facebook, Twitter, LinkedIn & TikTok